Skip Navigation
Website Accessibility
Ken Tallman was born in Oakland on Christmas Day 1946, and he was born to be in the water. Some say he could walk on water, but really he was just surfing. He started young by excelling in swimming in the local pool, and then in high school he drove over the hill every day after class to Santa Cruz to catch waves.
When he turned 18, he enlisted in the U.S. Navy and immediately was given the task of teaching the new sailors to swim. He became a Deep See Diver for the Navy through their program in Massachusetts, and was also a Frogman (an early version of a U.S. Navy Seal). His Career in the Navy took him diving all over the planet, where he would work on the Nautilus, the world's first nuclear submarine.
After he completed his service in the late sixties, Ken moved back to California, sprouted an epic beard, and made his way up to the Mendocino Coast. To make ends meet, he made and sold leather goods in the village of Mendocino. When the village's outfall pipe construction began, Kenny got a job on the project, and because of his vast knowledge of hydraulics and commercial diving experience, he ended up as foreman and spearheaded the execution of the pipeline project.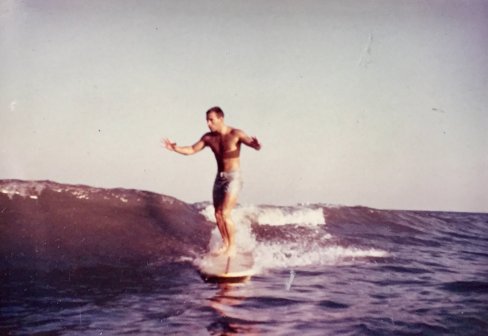 With the money he made while working on this job, Kenny was able to save and open a dive shop to serve divers on the coast.

In 1977, Kenny opened the doors of Sub-Surface Progression in Fort Bragg. Over the years, the shop has supported a full spectrum of ocean sports activities on the Mendocino Coast. Known for excellent service and impressive inventory in both the commercial diving and recreational diving industries, Kenny built a reputation throughout the 80's and 90's as the place to go for spearfishing, abalone diving, surfing, and even kayaking equipment.
Through the decades, many customers have been affected by Ken's unique business practices: He was known to put a lot of trust in people and liked to help out divers and surfers
with gear when they might not be able to afford it at the time. In other words, he gave a lot of "discounts" and had a "take it now and pay me when you can" attitude with people he'd never even seen before without any talk of collateral. He'd "sponsor" kid's with surf suits when he knew their parents couldn't swing it. He chose humanity over money, and genuinely enjoyed making people happy and spreading his love of the ocean with customers old and new, and sharing it with upcoming generations.
In July of 2006, after a 3 year battle with leukemia, Kenny passed away peacefully at home. His death was a massive loss for the community, and though only 59, he is still celebrated today as the kind, generous, larger-than-life character that he was. His contagious positive attitude about life, his "Everything's good" smile and, of course, that mysterious twinkle in his eye, will never be forgotten.

Kenny's family continued to keep the Sub-Surface torch lit. His kids Blake, Garrick and Sparrow grew up working at the shop, and they were pretty much forced into diving and surfing whether they liked it or not....luckily they loved it. Blake took over operations after Kenny and to this day attempts to uphold the spirit of Sub-Surface Progression with good vibes, great customer service, and an eclectic selection of gear in the shop. He enjoys spearfishing in his free time and is a certified PFI Freediving Instructor as well.